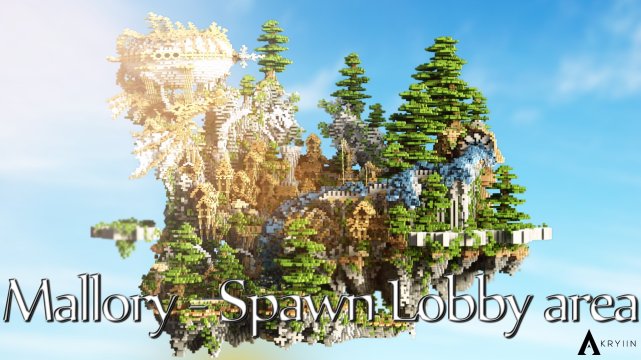 This would make an excellent waiting lobby since there are a lot of places for people to discover and wander around. Even some mineshafts are accessible for players.
The idea behind this build was to create something a bit more medieval looking without fancy curved roofs as I usually build.
Build includes:
- Designed spawn platform
- Crate area
- Parkour
- Shop / Info area
- An extra empty room
EXTRA PICTURES:
Spawn - Mallory Minecraft Map
---> Schematic size is fairly large so make sure you know how to paste large size schematics. I suggest to use AsyncWorldEdit or FAWE plugins and command /paste -a or if you have a small server use MCEdit to import schematic in single player world and afterwards upload save game file on your server.
| | |
| --- | --- |
| Blockcount | |
| Length (x): | 200 |
| Width (z): | 200 |
| Height : | 170 |